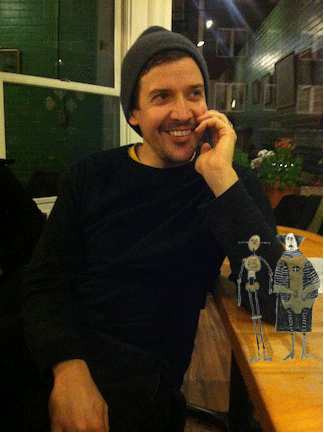 For commissions, please contact
Frank Sturges:
P: 740 369 9702
F: 740 369 0547
frank@sturgesreps.com
www.sturgesreps.com
For questions and comments contact Ryan Peltier at: peltier.r@gmail.com
or by phone at: 1 (612) 916 9617
Ryan Peltier is an artist and illustrator based in Minneapolis. He teaches at colleges around Minneapolis and Saint Paul and makes Illustrations for excellent publications such as the NY Times, the New Yorker and PLANSPONSOR. His work has been recognized by Adobe, American Illustration, 3x3 and Print Magazine and he has received awards from the Society of Illustration Los Angeles.
Clients include: NYC MTA, The New Yorker, The New York Times, NY Times Book Review, The Johns Hopkins University, Stanford University, Fast Company, Penn Gazette, PLANSPONSOR, Family Circle, Laika Animation, Harper Collins, Esquire Magazine, The Believer and others.
Exhibitions Include: Artrang in Seoul, BRIC Contemporary Art in Brooklyn, Tinlark Gallery and Billy Shire Fine Arts in Los Angeles
I enjoy things with a dark edge and things that are are enigmatic, you can't really put your finger on why you love them so much. I love elegant, classic design like Herbert Bayer and all the Bauhaus people, the Russians and their Constructivism and 60's designers like Rand, Eksell and Alvin Lustig. I love the brightness of paper and the old New Yorker Illustrations by people like Saul Steinburgh and Bass, also David Hock­ney and his quirky design sense and obviously, I will always love Edward Gorey and Tim Burton for the sense of humor and the strange, dark worlds they con­jure up.

-R. Peltier, 2016
PRESS:
http://www.itsnicethat.com/articles/ryan-peltier-space-station-110216

http://www.laboiteverte.fr/station-spatiale/

http://beautifuldecay.com/2011/08/09/ryan-peltier-2/

http://beautifuldecay.com/2010/08/12/ryan-peltier/

https://www.pinterest.com/chaoregina/ryan-peltier/

http://www.mutantspace.com/ryan-peltier-illustrations/

From a recent write up in YUCA Magazine by Lina Rincon:
Ryan Peltier
Ryan Peltier was born in Minneapolis in 1977. When he was 22 he went on a journey that took him from Key West to Tokyo and Seoul, and then to New York before going back home to Minneapolis, where he currently lives. Along these years he studied cooking and worked as a chef, then studied Art History and Liberal Arts, an that's when he decided to transfer to Minneapolis College of Art and Design, and started exploring Art and Illustration as a career path.
Ryan works with digital media, that provides him with tools with which he can instantly record every character, every fictitious world he imagines. Publications such as The New York Times, Esquire, The New Yorker, The Stanford Business Review, and Plansponsor commission him to illustrate their articles. He enjoys "solving the puzzle of an article in a visual way" because this allows him to address issues that he cares about, often sneaking in his feelings about the future, or digital technology. Based on his deep understanding of the power of symbols and visual imagery, he seeks to confront concrete issues through images that entice reflection upon broader or underlying truths.  


Space Station
In his personal project Space Stations, Ryan creates scenarios with places, people, and aliens that convey a hopeful version of the future. He recreates worlds in which things work properly, people live in fluent coexistence and aliens are friendly visitors.
With the series he intends to make a prediction of the future that is not dour like many, that doesn't feel like someone's warning you not to go there.